Space Folders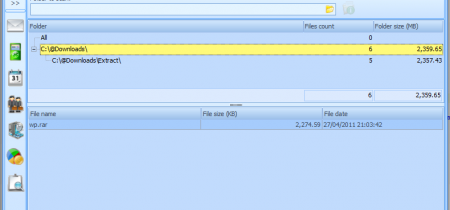 Manage your files and folders and pinpoint the files you need with ease! This intuitive tool lets you find cluttered folders that are taking too much space and find the files you want in few keystrokes.
---
Social Networks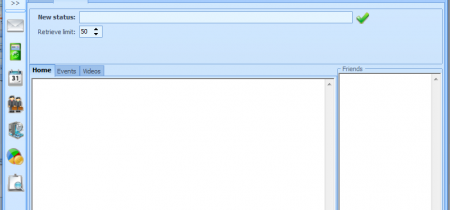 Tired of signing on to multiple sites to keep up with colleagues, clients and family? Toolilla provides one point of access for all of your social networks, enabling you to receive updates, and post your own, from within the Toolilla environment.
The Social Networks tool also integrates with the Calendar, letting you add Facebook events to your Calendar with a simple click.
---
Screen Shooter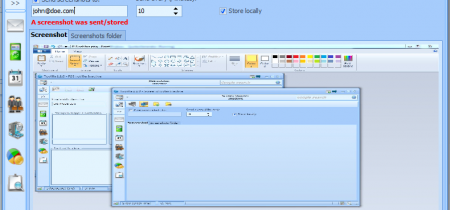 This tool sends you a screenshot of your computer's screen at pre-defined intervals, letting you keep tabs on your computer when you're not around it.
---
RSS Notifier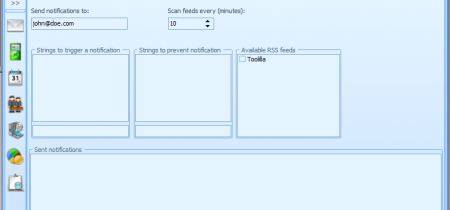 Why scan multiple RSS feeds manually when Toolilla can do it for you? Just select which tags or keywords you'd like and let Toolilla take it from there. The tool will scan your desired RSS feeds and send them to you via email at your preferred interval.
---
RSS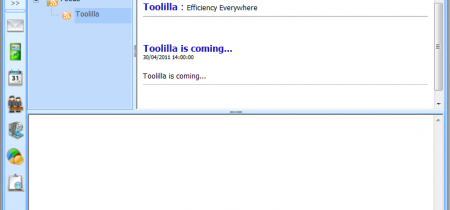 View numerous RSS feeds? Now you can combine them into one, easy-to-manage reader. Toolilla's built-in RSS reader pulls headlines and content automatically and organizes them into groups and sub-groups defined by you.
---
Recorder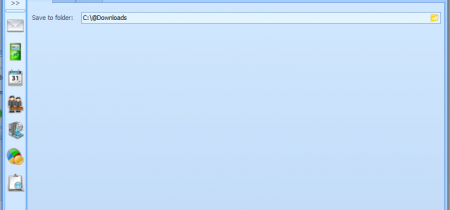 Take flawless notes of your meetings and brainstorming sessions, and remember your big ideas with Toolilla's Recorder. The Recorder lets you make video and/or audio recordings, and provide a host of features that let you manage your records. Forget about trying to write your best ideas down… just record them.
---
Quotes Generator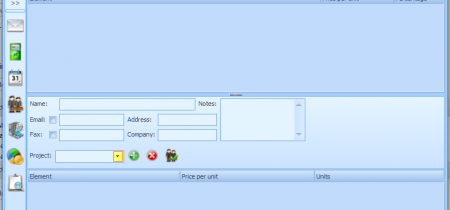 Quickly and easily generate quotes for clients. Simply define the pricing rules for the products and services you offer and from that point on, creating quotes is a simple, streamlined process. Toolilla will automatically generate quotes for the services and prices needed, which you can then print and send to your customers, all from within the tool itself!
Moreover, this tool is fully integrated with Toolilla's Contacts Management tool, which means that whenever you create a quote for a customer it will be stored with that customer's profile, helping you to identify and be aware of your opportunities.
---
Quicklaunch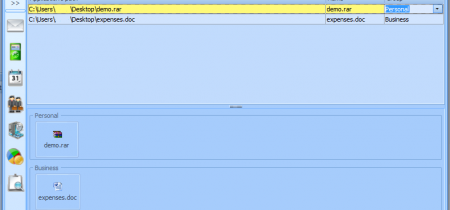 Divide your desktop icons into manageable groups. Open your most used applications and documents from where you can easily find them. Lose the clutter and not your files.
---
Process Notifier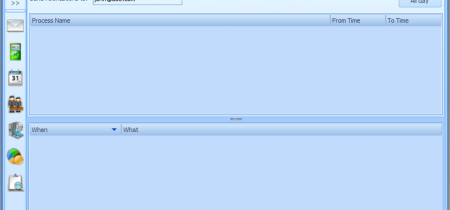 Receive an email notification whenever selected processes or applications are running at specific hours. You can also use it to learn when processes are running unexpectedly.
---
Process Management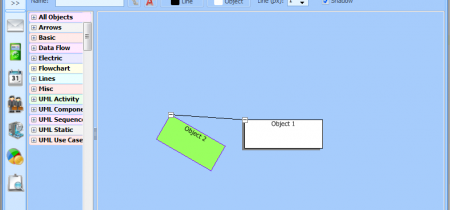 Communicate and improve your internal and external processes. Create diagrams of almost any kind: Workflows, UML, business and more including annotations.
---
Process Activation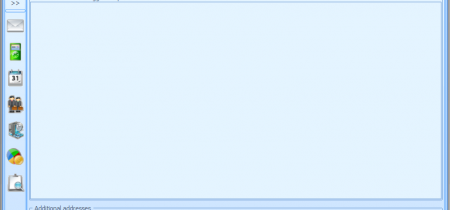 The Process Activation tool lets you activate a specific process whenever you receive an email from a predefined email address. This tool is a must-have for anyone who needs to ensure a batch file is executed, even when they're nowhere near their computers.
---
OS Notifier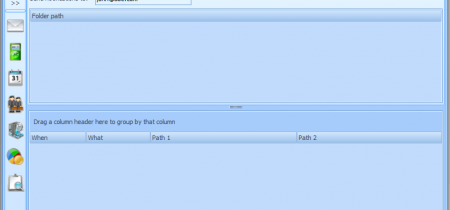 Receive an email notification anytime a change is made in a folder or file of your choice. Combine this tool with the output folders of other systems and applications you rely on so that you're notified whenever key events occur and to ensure that you can react immediately if needed.
---
Newsgroups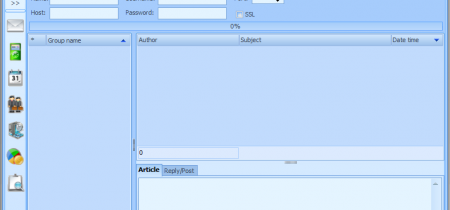 Toolilla offers a simple, easy-to-use tool that lets you participate in multiple newsgroups. With Toolilla, you get what you need, rather than a whole lot of features you'll never use.
---
Networking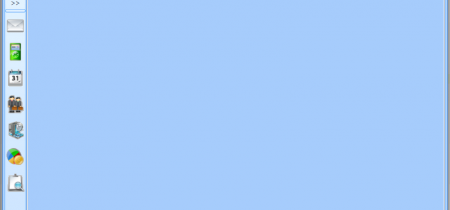 Business and opportunities thrive on connections! Use the networking tool to determine where your strongest opportunities are located. This tool scans your email interactions and uses that data to build a graphical representation of all the interactions in your network. See at-a-glance the people and entities with whom you have the most, and strongest, touch points and connections.
---
MP3 Player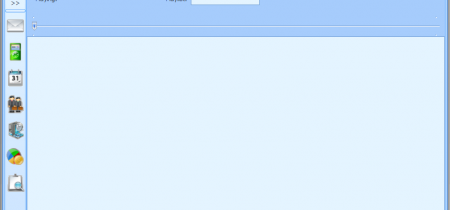 Listen to your favorite music and manage your playlists quickly and easily.
---
Mini Internet Browser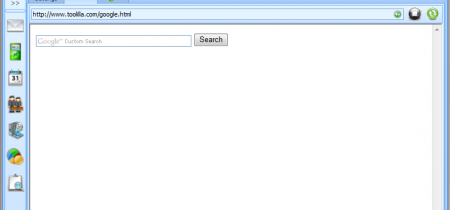 Need to check something on the Web quickly? The Mini Internet Browser lets you surf the web without distracting your current doing.
---
MailDrive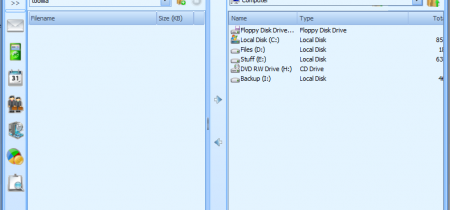 Travel frequently? Work from multiple locations? Toolilla lets you view and access your critical files and folders by letting you turn a free email account or a dedicated local folder into a personal "cloud". You can use MailDrive as a collaboration workspace for you and your colleagues by generating one access point to all your shared files and documents.
The Toolilla MailDrive provides an elegant view into your email account-turned-cloud. From your own computer, the cloud looks like just another drive on your computer. Store as many files/folders as you want in your cloud.
---
Mail Commands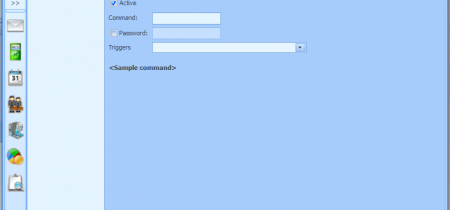 Mail Commands is a really powerful tool that allows you to interact remotely with your computer via email and receive feedback for your actions. In fact, you can do almost anything with your computer remotely; it's as if you were sitting right next to it. For instance, you can:
Stop or start some of the other tools (Notifiers tools for example)
Email a file to a certain email address
Ask for a list of files in a specific folder
Run, copy, delete a file/folder from a remote location
And much more.
---
Knowledge Base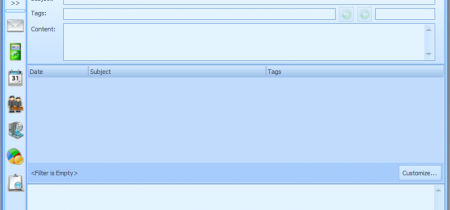 Harness the accumulated knowledge of yourself, your employees or your business into a central, easy-to-access repository. Store common questions or queries, along with their appropriate responses in your Knowledge Base tool for future access.
---
Journal
Get insight into how you're spending your time and effort. This intuitive but powerful tool lets you track your time by clients, projects and more. You can improve your time management on projects, analyze your business performance and much more.
---
Import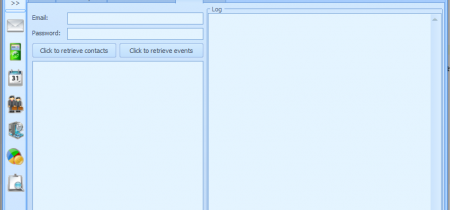 Want to rely on a single system for your work and personal data? Save time and effort with Toolilla's Import Tool. This tool lets you import items from your Windows address book, Microsoft Outlook, Outlook Express, Gmail and many other sources. Load up your Toolilla with your contacts,emails and events.
---
FTP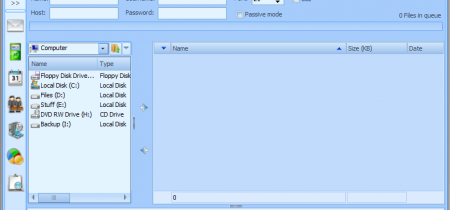 Toolilla offers a simple, easy-to-use FTP client that lets you upload and download files from your FTP server. Toolilla gives you the features you need, rather than a whole lot of features you'll never use.
---
Financial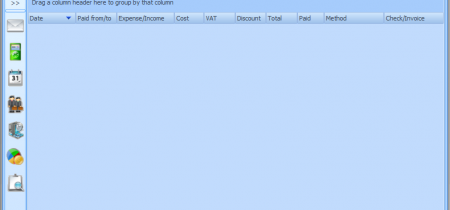 Keep abreast of your financial performance and get a better understanding of how to manage your money. This tool measures the effectiveness of your work based on your income and expenses. Detailed graphs help you analyze both your business cash flow and personal expenses.
---
Email Client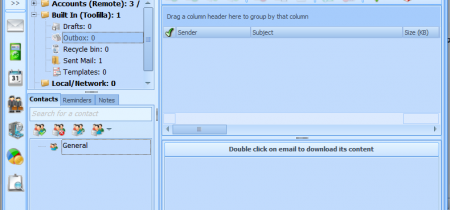 If you're like most people, you're in email all day long. That's why Toolilla offers an Email Client that lets you send, receive and keep up with your messages from multiple accounts – all from within the Toolilla environment. Moreover, the Email Client is completely integrated with many of the other Toolilla's tools, thereby offering you greater efficiency and productivity.
The Toolilla Email Client works with all types of email services, which means you can rely on it for managing work and personal email all from one convenient location.
Addons for the Email Client tool:
East asian support
Winmail viewer
Freepops
---
Decision Maker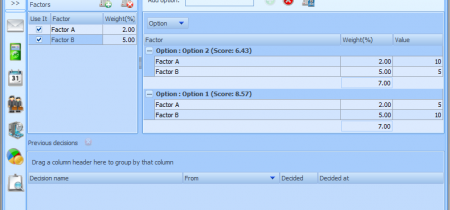 Decisions aren't made in a vacuum; clients, partners and project owners need to weigh in. The unique Decision Maker tool tracks the variables and dependencies that affect your decisions and ensures that your requirements are fulfilled.
Simply establish the factors, weights and values that drive your decisions and Decision Maker will aid you in quickly making the right decision.
---
Contacts Management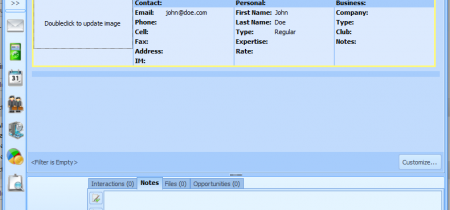 Toolilla offers a Contacts Management tool that can be used as a simple way to keep track with friends and family's ever-changing cell phone numbers and email accounts. It can also be leveraged to manage your clients, subcontractors and colleagues profiles, along with other points of data that are relevant to you, such as:
Files (quotes, business documents, Classes homework, etc.)
Interactions, notes
Potential opportunities
---
Clipboard Tracker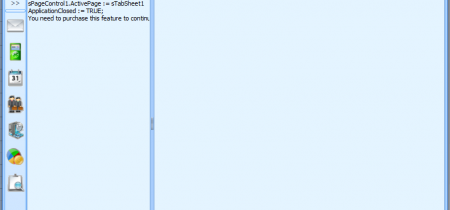 Toolilla automatically stores everything you copy (eg: ctrl+c) to a Clipboard Tracker, even if you do so in other applications, letting you locate and access this data whenever you need it. You can set the Clipboard Tracker to save as many clipboards as you want.
---
Calendar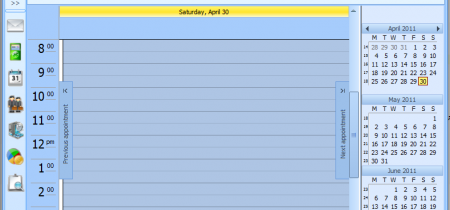 Track all of your meetings, classes, appointments and project tasks in a single, convenient location. You can setup views according to your needs: Daily, Weekly, Monthly, Yearly and Gantt so you will never miss a deadline again.
---
Backup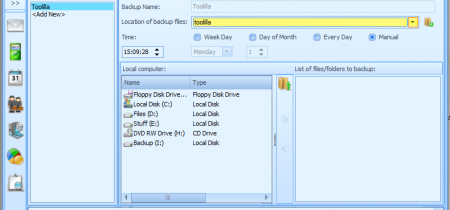 Lazy about doing backup? Toolilla's full-featured – yet easy-to-use – Backup tool will help you change that. This tool uses your personal cloud or any local folder you define, to backup your critical documents and files. It's so easy to use that you'll never neglect this vital task ever again. This tool is integrated with MailDrive and Calendar tools, which means whenever you do a backup, the file will appear in the MailDrive tool, and you will see a corresponding entry in the Calendar.
---
Encodings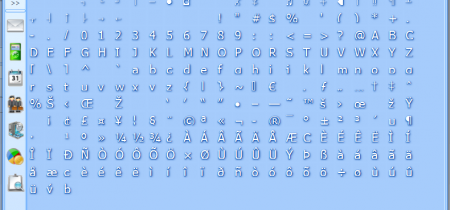 The Encodings tool is a convenient tool that provides easy access to different characters on different charsets, including HTML special characters.